#1) Spencer Rattler – Oklahoma
Previous Rank: #1
Trend: –
There are few people in this world who actually believed Tulane would put up numbers against this highly ranked Oklahoma team, yet at the end of the day they did. While Rattler managed to hit 300+ passing yards on the game, his 2 INTs did not help his case for being the top guy. Lucky for him, pretty much everyone else who is a legitimate threat to his throne also had poor showings. During this game, Rattler showcased his clam demeanor as he was capable of playing levelheaded and allowing his plays to develop. At times he did rush some throws, but for the most part he was a nicely paced QB who danced in the pocket to let his receivers gain separation. It should go without saying, but if he can cut down on the INTs, Rattler will stay at the top of the QB class this year.
#2) Brock Purdy – Iowa State
Previous Rank: #4
Trend: +2
Purdy's statline was clean but not as impressive as you would expect from the gunslinger. The major positive from the UNI game is that Purdy seemed to have tempered his gunslinging habits. Throwing the ball 26 times in the game with 21 completions, Purdy was as efficient as you want your QB to be. He also showed his maneuverability within the pocket has improved since last year. Only downside I saw from this game is that when he breaks the pocket, Purdy tends to fully commit to the run even though he is not a great ball carrier.
#3) Bo Nix – Auburn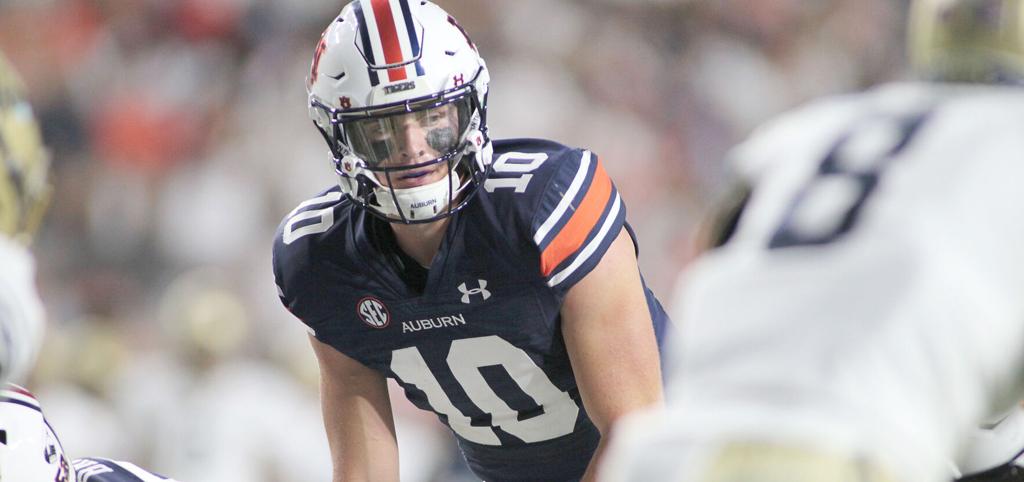 Previous Rank: #5
Trend: +2
I spoke of Bo in the preseason about being the QB this class with the highest potential of everyone, and this game was a great showcase of textbook Bo. 20 of 22 for 275 yards and 3 TDs is among the best statlines to come out of this week, and Bo showed strong potential in being a full-field passer as opposed to the half-field passer he was last season. While this development has not proven to be permanent, the possibility still makes Bo one of the best draft prospects in the nation.
#4) Grayson McCall – Coastal Carolina
Previous Rank: #3
Trend: -1
McCall was not asked to be used a lot this week against FCS team The Citadel, but when his number was called he made the most of it. McCall managed to pass 250 passing yards for the week despite not even throwing the ball 20 times in the game. While McCall did nothing wrong per se, the fact that another QB was asked to do more and finished with a stronger statline dropped McCall down a rank. If there is one solid takeaway from this game, it is that McCall is an excellent improvisor. His footwork does need a little practice however, as his feet were all over the place when he was standing in the pocket.
#5) Kenny Pickett – Pitt
Previous Rank: #6
Trend: +1
Kenny Pickett has never been the guy who wowwed anyone with his amazing stats, but when you watch him play you can tell he is competent in his craft. Aside from a 50+ yard bomb that hit his receiver in stride (something he is not asked to do often), Pickett showed his level of intelligence and ability to work through his progressions. He also showed he is capable of being a full-field passer, though most of the playbook only asked him to target a specific side.
#6) Sam Howell – North Carolina
Previous Rank: #2
Trend: -4
There is no sugarcoating it: Howell had a pisspoor showing against Virginia Tech. The highly overrated UNC went into Blacksburg ranked #10 in the nation and proceeded to get thoroughly embarrassed. Howell himself only managed to barely crack 200 yards in the air, and finished the game with a 53% completion percentage alongside 3 INTs. If he was not so highly touted last season, this game could have completely derailed his NFL hype.
#7) Desmond Ridder – Cincinnati
Previous Rank: #9
Trend: +2
Ridder did not have a particularly tough opponent against FCS Murray State, but did showcase so positive aspects of his game. Aside from the beautiful deep ball that he put on display, Ridder also made scouts aware of his patience and great anticipation as plays develop. The only reason this outing was not more favorable to the QB was because the opponent was an FCS team taking on a Top-10 program.
#8) Dillon Gabriel – UCF
Previous Rank: #7
Trend: -1
Gabriel's performance is just under where you would want a QB of his talent. While he was able to make intelligent decisions when needed and was aware of his receivers' positioning on the field at any given time, he struggled to stay in the pocket, leaving at times when he really didn't need to. He also struggled with touch on his throws throughout the game, though this did not end up hindering his game performance. His two interceptions were not ideal for him either.
#9) D'eriq King – Miami U
Previous Rank: #8
Trend: -1
King had a tall order in competing week 1 against Alabama and their suffocating defense. His 23 completions on 31 attempts is a decent enough showing, the fact he both threw for 2 INTs and did not manage to reach 200 passing yards on 30+ attempts show that his statline was less than stellar. King is still arguably the most dangerous dual threat QB in the nation, but his inability to feel out the pocket was a major weak point that Bama exposed this week.
#10) Levi Lewis – Louisiana (ULL)
Previous Rank: #12
Trend: +2
Lewis put on a pretty good showing against Then-#21 Texas, throwing for 282 yards on 40 attempts and a TD. Lewis is one of the more underrated dual threat QBs this season as he is often overshadowed by the likes of King, Penix, Cunningham. This week however I would argue he outperformed all but one of those listed. His issue still comes in the way of being a pocket passer, as he is still limited to being a half-field passer who struggled getting past his second progression on passes.
#11) Kedon Slovis – USC
Previous Rank: #13
Trend: +2
#12) JT Daniels – Georgia
Previous Rank: #14
Trend: +2
#13) Malik Willis – Liberty
Previous Rank: #15
Trend: +2
#14) Jack Coan – Notre Dame
Previous Rank: N/A
Trend: N/A
#15) Michael Penix Jr. – Indiana
Previous Rank: #11
Trend: -4
OUTSIDE LOOKING IN:
Malik Cunningham – Louisville
Jake Haener – Fresno State
Chris Reynolds – Charlotte
Nick Starkel – San Jose State
Sam Hartman – Wake Forest
and Everyone Else…