#1) Spencer Rattler – Oklahoma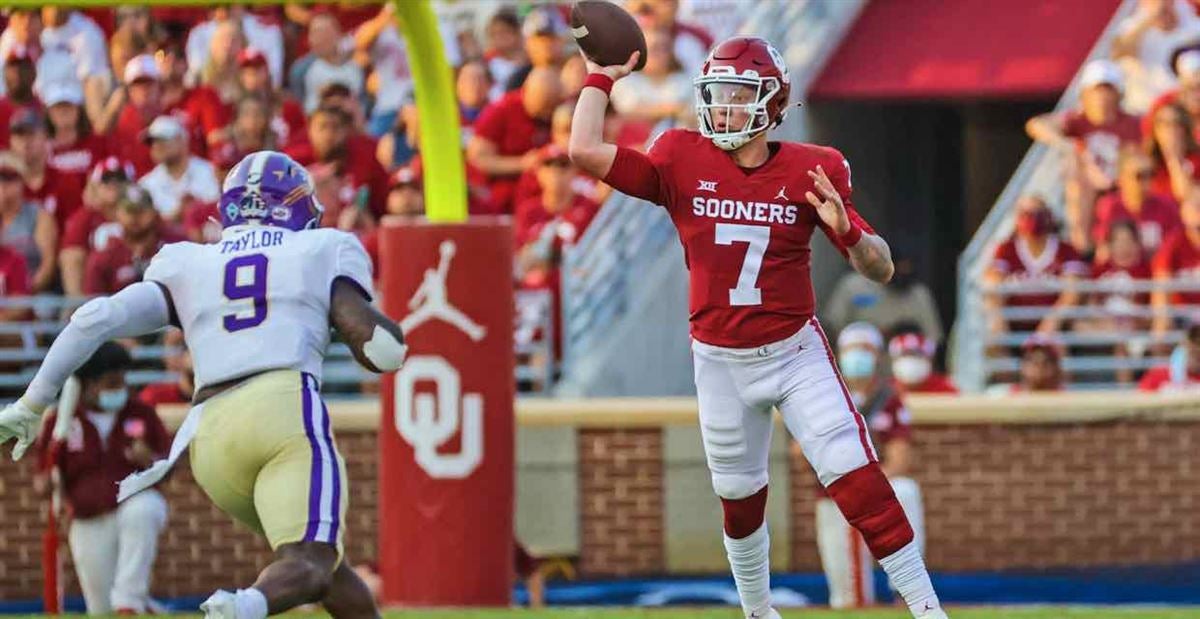 Previous Rank: #1
Trend: –
Coming off two interceptions in the scary win over Tulane, Rattler made sure he got what he needed to stay in the Heisman race and the top prospect. Hitting 243 yards on 26 attempts and 5 TDs, Rattler made sure to remind everyone that he was the best QB in the nation when it came to airing out the ball. He demonstrated his abilities as a full-field passer and really showcased his attentive eyes when scanning the field to find his man. What is a knock against him for this week is that his opponent was an FCS team, so the stats were more or less just stat-padding in glorified garbage time.
#2) Grayson McCall – Coastal Carolina
Previous Rank: #4
Trend: +2
McCall had a great game against Kansas last week, racking up 245 yards in the air and completing 2 TDs on the way to the victory for CCU. McCall put on display his accuracy that can absolutely deflate a defense if allowed to get going, and his ability to read through his progressions in a quick and definite manner add to the repertoire of what McCall put on display this week. Kansas may not be the best program in the nation, but considering the guys he jumped either played an FCS team or did terribly, I would say his draft stock increased after this performance.
#3) Kenny Pickett – Pitt
Previous Rank: #5
Trend: +2
Pitt surprised a lot of people last week with their win over Tennessee, and Pickett had a lot of good film to pull from the game. His anticipation is getting better as we start to get into the 2021 season, and it seems he has developed a dependable knack for identifying where the pressure is coming from on the defense. 285 yards off 36 attempts is not a bad statline to walk away with, and his 2 TDs were well deserved. Pickett seems to be getting a consistent amount of usage out of the Panthers offense, so I would like to see his efficiency increase as well.
#4) Sam Howell – North Carolina
Previous Rank: #6
Trend: +2
Howell was the opposite this week compared to his week 1 performance. Georgia State is by no means anywhere near the same level as Virginia Tech, but this game did show that Howell didn't just magically forget how to play the QB position. His 352 yards off 29 attempts is a solid statline next to his 3 TDs. In terms of film, Howell definitely showed he has a great sense of pocket presence and knows when to adjust as the pressure tightens. His accuracy was on display as well including a 40 yard bomb. All in all a good showing compared to his previous performance.
#5) Desmond Ridder – Cincinnati
Previous Rank: #7
Trend: +2
Ridder was not asked to do too much this week against FCS Murray State, but he managed to still rack up 243 yards and 2 TDs. Not much to say for this game. Ridder showed what he has already shown and the lack of real competition does not help show more of the intricacies of his play. Regardless, I must say Ridder's ability to put heat on his passes is phenomenal to watch.
#6) Bo Nix – Auburn
Previous Rank: #3
Trend: -3
Nix did not have a terrible game per se, but rather his lack of usage combined with other performances see him drop this week. Against FCS opposition, Nix was only allowed 17 attempts during his time on the field, of which he only completed 9 for a completion percentage of about 53%. His anticipation is getting much better, though this game he struggled with staring down his receivers and overall just felt like he was going through the motions. A poor showing from a great prospect.
#7) D'Eriq King – Miami U
Previous Rank: #9
Trend: +2
King is definitely improving as a pocket passer compared to his time last season. His accuracy across the field has increased, and his high usage rate compared to his peers against Appalachian State did well to show us what he can do with the ball in his hands. He is slowly becoming a much better pocket passer, which excites me to what level he is going to be at by the time he reaches the end of the season.
#8) Dillon Gabriel – UCF
Previous Rank: #8
Trend: –
Gabriel did fine against his FCS opponent this week, but strong showings from King and Ridder helped them move up while Gabriel stagnates this week. Outside of the 300 yard game that he was able to reach, we learned little about Gabriel's game we already did not know.
#9) Kedon Slovis – USC
Previous Rank: #11
Trend: +3
Stanford may have upset the ranked USC Trojans, but Slovis as a whole was pretty ok when it came to the film he put out. He shows the potential to be a full-field passer, which is a phenomenal development for the young QB. His 224 yards on 42 attempts is a weak showing on the statsheet, but the film had some positives this week.
#10) Malik Willis – Liberty
Previous Rank: #13
Trend: +3
Willis was used as a runner this week in Liberty's game against Troy. He was asked to run the ball 20 times compared to his 18 pass attempts. I don't expect Malik Willis to jump to the Top-5 anytime soon, but I do believe he is capable of being a great sleeper pick do to his ever evolving playstyle. Liberty has shown he can be used any which way he is needed, and Willis is just the athlete to capitalize.
#11) Jack Coan – Notre Dame
Previous Rank: #14
Trend: +3
#12) JT Daniels – Georgia
Previous Rank: #12
Trend: –
#13) Levi Lewis – Louisiana
Previous Rank: #10
Trend: -3
#14) Brock Purdy – Iowa State
Previous Rank: #2
Trend: -12
#15) Jake Haener – Fresno State
Previous Rank: #17
Trend: +2